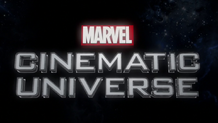 The 
Marvel Cinematic Universe
 is a shared universe created by 
Marvel Studios
, designated as 
Earth-199999
 within Marvel's multiverse system. The universe is comprised mainly by films independently made by Marvel Studios, that are always set within this same universe, much like Marvel has done with their comics.
The universe includes a series of short films, called Marvel One-Shots, launched with each film's Blu-ray release starting with Thor and finishing with Thor: The Dark World. These short films were, however, eventually discontinued.
Starting with the release of Agents of S.H.I.E.L.D., the universe expanded into television series, including series premiered in the ABC and Freeform channels, and in the Netflix streaming platform.
The franchise also includes a series of tie-in Comics and video games, released as promotional material to the films, all set within the same reality. However, some of them, especially video games, do not match the events featured in other products following their release, and are classified as non-canonical parts of this universe.
Movies
Phase One
Iron Man (2008)
The Incredible Hulk (2008)
Iron Man 2 (2010)
Thor (2011)
Captain America: The First Avenger (2011)
The Avengers (2012)
Phase Two
Iron Man 3 (2013)
Thor: The Dark World (2013)
Captain America: The Winter Soldier (2014)
Guardians of the Galaxy (2014)
Avengers: Age of Ultron (2015)
Ant-Man (2015)
Phase Three
Captain America: Civil War (2016)
Doctor Strange (2016)
Guardians of the Galaxy Vol. 2 (2017) (unreleased/post production)
Spider-Man: Homecoming (2017) (unreleased/post-production)
Thor: Ragnarok (2017) (unreleased/post-production)
Black Panther (2018) (unreleased/filming)
Avengers: Infinity War (2018) (unreleased/filming)
Ant-Man and the Wasp (2018) (unreleased/pre-production)
Captain Marvel (2019) (unreleased/development)
Untitled Avengers Sequel (2019) (unreleased/filming)
Spider-Man: Homecoming 2 (2019) (unreleased/development)
Phase Four
(Untitled Movie) (2020)
(Untitled Movie) (2020)
(Untitled Movie) (2020)
One Shots
The Consultant (2011)
A Funny Thing Happened on the Way to Thor's Hammer (2011)
Item 47 (2012)
Agent Carter (2013)
All Hail the King (2014)
TV Series
ABC Series
Agents of S.H.I.E.L.D. (2013-TBA)

Season One (2013-2014)
Season Two (2014-2015)
Season Three (2015-2016)
Season Four (2016-2017)

Agent Carter (2015-2016)

Season One (2015)
Season Two (2016)

The Inhumans (2017)
Damage Control (TBA)
(John Ridley's TV project) (TBA)
(ABC's second comedy TV series) (TBA)
Netflix Series
Daredevil (2015-TBA)

Season One (2015)
Season Two (2016)
Season Three (TBA)

Jessica Jones (2015-TBA)

Season One (2015)
Season Two (TBA)

Luke Cage (2016-TBA)

Season One (2016)
Season Two (TBA)

Iron Fist (2017)
The Defenders (2017)
The Punisher (2017)
Freeform Series
Web Series
WHiH Newsfront (2015, 2016)
Agents of S.H.I.E.L.D.: Slingshot (2016)
Behind-the-scenes features
Agents of S.H.I.E.L.D.: Double Agent (2015)
Agents of S.H.I.E.L.D.: Academy (2016)
Comics
Iron Man: The Price of Doing Business (2008) (Non-Canon)
Iron Man: Fast Friends (2008)
Iron Man: Security Measures (2008)
The Incredible Hulk: The Fury Files (2008)
The Incredible Hulk: The Big Picture (2008)
Nick Fury: Spies Like Us (2008)
Iron Man: I Am Iron Man! (2010)
Iron Man: Limited Edition (2010) (no official title)
Iron Man: Will Online Evils Prevail? (2010)
Iron Man Royal Purple Custom Comic (2010)
Iron Man 2: Security Breach (2010)
Iron Man 2: Public Identity (2010)
Iron Man 2: Agents of S.H.I.E.L.D. (2010)
Iron Man 2: Fist of Iron (2010)
Thor, The Mighty Avenger (2011)
Captain America: First Vengeance (2011)
Captain America: Evil Lurks Everywhere (2011)
Captain America & Thor: Avengers! (2011) (Thor - Non-Canon)
The Avengers Prelude: Fury's Big Week (2012)
The Avengers: Iron Man Mark VII (2012)
The Avengers: The Avengers Initiative (2012)
The Avengers Prelude: Black Widow Strikes (2012)
Iron Man 2 Adaptation (2012)
Iron Man 3 Prelude (2012)
Iron Man: The Coming of the Melter (2013)
Thor Adaptation (2013)
Thor: The Dark World Prelude (2013)
Thor: Crown of Fools (2013)
Captain America: The First Avenger Adaptation (2013)
Captain America: The Winter Soldier Infinite Comic (2014)
Captain America: Homecoming (2014)
Guardians of the Galaxy Prequel Infinite Comic (2014)
Guardians of the Galaxy Prelude (2014)
Guardians of the Galaxy: Galaxy's Most Wanted (2014)
Agents of S.H.I.E.L.D.: The Chase (2014)
The Avengers Adaptation (2014)
Avengers: Age of Ultron Prelude - This Scepter'd Isle (2015)
Ant-Man Prelude (2015)
Ant-Man - Scott Lang: Small Time (2015)
The Avengers: Cutting Edge (2015) (Non-Canon)
Avengers: Operation HYDRA (2015)
Ant-Man: Larger Than Life (2015)
Avengers: Age of Ultron Episode 0 (2015) (Non-Canon)
Jessica Jones (2015)
Captain America: Civil War Prelude (2015)
Captain America: Civil War Prelude Infinite Comic (2016)
Captain America: Road to War (2016)
Doctor Strange Prelude (2016)
Doctor Strange Prelude Infinite Comic - The Zealot (2016)
Doctor Strange: Mystic Apprentice (2016)
Guardians of the Galaxy Vol. 2 Prelude (2017)
Undeveloped Movies
Alien Legion
Black Widow
Blade
Gargoyle
Hawkeye
Inhumans
Iron Man 4
Ka-Zar
Loki
Longshot
Morbius
Mort the Dead Teenager
Nick Fury
Nighthawk
Power Pack
Prime
Runaways
The Incredible Hulk 2
War Machine
Werewolf by Night
Warriors Three
Undeveloped TV series
Video Games
Iron Man video game (2008)
The Incredible Hulk video game (2008)
Iron Man 2 video game (2010)
Thor: God of Thunder (2011)
Captain America: Super Soldier (2011)
Iron Man 3 - The Official Game (2013)
Thor: The Dark World - The Official Game (2013)
Captain America: The Winter Soldier - The Official Game (2014)
Artbooks
The Art of Iron Man (2008)
The Art of Iron Man 2 (2010)
The Art of Thor (2011)
The Art of Captain America: The First Avenger (2011)
The Art of The Avengers (2012)
The Art of Iron Man 3 (2013)
Iron Man Manual (2013)
The Art of Thor: The Dark World (2013)
The Art of Captain America: The Winter Soldier (2014)
The Art of Guardians of the Galaxy (2014)
Agents of S.H.I.E.L.D.: Season One Declassified (2014)
The Art of Avengers: Age of Ultron (2015)
The Road to Avengers: Age of Ultron - The Art of the Marvel Cinematic Universe (2015)
Agent Carter: Season One Declassified (2015)
The Art of Ant-Man (2015)
Agents of S.H.I.E.L.D.: Season Two Declassified (2015)
Daredevil: Defender of Hell's Kitchen: Season One (2015)
The Art of Captain America: Civil War (2016)
The Art of Doctor Strange (2016)
Stories Inspired by the Universe
Iron Man: Teen Novelization (2008)
Iron Man: The Junior Novel (2008)
Iron Man: A New Hero (2008)
Iron Man: I Am Iron Man! (2008)
Iron Man book (2008)
The Incredible Hulk Movie Novelization (2008)
The Incredible Hulk: A Hero Called The Hulk (2008)
The Incredible Hulk: Larger Than Life! (2008)
The Incredible Hulk: Movie Sticker Book (2008)
Iron Man 2 book (2010)
Iron Man 2: The Official Movie Storybook (2010)
Iron Man 2: The Junior Novel (2010)
Iron Man 2: Iron Man's Friends and Foes (2010)
Iron Man 2: Meet the Black Widow (2010)
Iron Man 2: Iron Man vs. Whiplash (2010)
Iron Man 2: Iron Man Fights Back (2010)
Iron Man 2: The Reusable Sticker Book (2010)
Thor Junior Novel (2011)
Thor: Movie Storybook (2011)
Thor: Heroes & Villains (2011)
Thor: From Asgard to Earth (2011)
Thor: Attack on Asgard (2011)
Thor: Thor's Revenge (2011)
Captain America: The First Avenger (junior novelization) (2011)
Captain America: The First Avenger: Movie Storybook (2011)
Captain America: The First Avenger: America's Secret Weapon (2011)
Captain America: The First Avenger: The Hydra Files (2011)
Captain America: The First Avenger: Operation: Super-Soldier (2011)
Captain America: The First Avenger: The Great Escape (2011)
The Avengers: The Avengers Assemble (2012)
The Avengers: Movie Storybook (2012)
The Avengers: Battle Against Loki (2012)
The Avengers: The S.H.I.E.L.D. Files (2012)
The Avengers: Reusable Sticker Book (2012)
Iron Man 3: Suits of Armor (2013)
Captain America: Civil War: The Junior Novel (2016)
Captain America: Civil War: Avengers Declassified (2016)
Captain America: Civil War: Captain America Versus Iron Man (2016)
Captain America: Civil War: Choose A Side! (2016)
Captain America: Civil War: Escape From Black Panther (2016)
Captain America: Civil War: The Rise of Crossbones (2016)
Captain America: Civil War: We Are The Avengers (2016)